It is easy to see why many people love the lifestyle of living in Las Vegas, NV. The main Las Vegas strip offers excitement at all hours of the day, with concerts, shows, and fun games to try your luck. At the same time, there are beautiful neighborhoods where families can enjoy the peace and quiet of suburb living.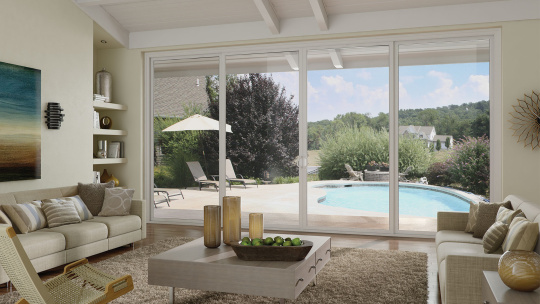 When you are looking for ways to improve your Las Vegas home, consider renovations that will improve the value of your property. One thing many people overlook is the quality of the exterior patio doors that connect your home to the outdoor living space. If it's time to replace your old sliding glass door, you should consider the benefits of choosing stylish patio doors.
Upgrade the Appearance of Your Room
Plain sliding glass doors might be functional, but they don't do much to impact the appearance of the room. Even though functionality is important, you shouldn't sacrifice the style of your home. As a homeowner, you can create a comfortable, elegant living environment where you can relax with the family.
Patio doors give you the best of both worlds: elegance and functionality combined. You can enjoy the beauty of a custom designed door and still access the outdoor living space easily.
Whether you are redesigning the entire room or working on upgrades throughout your home, it is essential to consider the quality of your windows and doors. Buying new furniture will look nice, but the furniture will seem out of place if you don't have high-quality windows to match. In fact, some homeowners find that new patio doors provide the foundation they need to transform the entire room.
How Will the Patio Doors Be Used?
There are several factors that need to be considered before you decide whether patio doors are right for your family. First, you need to look at the way you would use the doors. Do you often move between the indoor and outdoor living space of your home? Patio doors can make it simple to connect these areas so you can enjoy more time outside with the family. Elegant patio doors can improve your experience if you like to enjoy a cup of coffee on the porch in the morning or a fun, family dinner outside when the weather cools down in the evening.
Also, consider the ease of opening the patio doors. Many people find that patio doors are easier to move compared to heavier sliding glass doors. If you choose a bi-fold style, you don't have to tug on the heavy door to slide it along the track. Look at the functionality of the patio doors compared to traditional sliding doors and you will find them easier to use in many situations.
Durable Solutions for Your Home
When you are investing in renovation projects for your home, it is essential to pick products that are built to last. These doors are sturdy and durable so you can use them for many years without worrying about broken parts or damaged areas.
Additionally, high-quality patio doors require minimal maintenance throughout the year. You don't have to stress about the work that goes into repairs and maintenance for low-quality materials.
An Inspired Style for Your Living Space
It is incredible to see the transformation that can occur when you upgrade the doors on your home. Patio doors will add a touch of elegance you will love! When you come home after a long day at work, you can rest in a luxurious environment that brings happiness into your life. These patio doors will bring in the natural sunlight, helping to transform the appearance of the room and boost your mood at the same time. They can even make small spaces look larger.
If you are trying to pick an entry door that leads to your outdoor living space, you need to consider the benefits of patio doors. This style will improve your enjoyment and comfort, helping you create the home of your dreams.
Choosing a Windows and Doors Contractor
The best way to ensure that you pick high-quality patio doors for your home is to choose a contractor with a great reputation. Here at US Energy Windows & Doors Inc, we offer over 40 years of experience in the industry. We are a certified Milgard dealer and we have many other products in order to give you a wide range of choices.
When you contact our team, you will have access to top-notch customer service and competitive prices. We are always focused on customer satisfaction! Call us at US Energy Windows & Doors Inc: (702) 880-0875. Or you are invited to come to our location to view our showroom: 6176 W Charleston Blvd, Las Vegas, NV 89146.